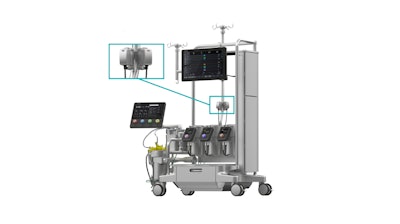 LivaNova
LivaNova today announced it received FDA clearance and CE Mark for its Essenz In-Line Blood Monitor (ILBM), which provides accurate and continuous measurement of essential blood parameters to perfusionists throughout cardiopulmonary bypass (CPB) procedures. The ILBM is integrated into LivaNova's next-generation CPB platform, the Essenz Perfusion System, which allows perfusionists to access and manage reliable blood parameters directly from the system's cockpit, without the need for additional monitors or holders.
With the Essenz ILBM, perfusionists receive in-line continuous monitoring of the patient's parameters for the duration of a procedure. This allows for the delivery of a patient-tailored approach to perfusion rooted in data-driven decisions.
"Dynamic conditions can rapidly change a patient's blood parameters during a cardiopulmonary bypass procedure," said Marco Dolci, LivaNova President, Cardiopulmonary. "The Essenz In-Line Blood Monitor provides continuous monitoring throughout a patient's procedure. Access to accurate, real-time measurements directly from the Essenz Perfusion System allows for quick decisions and tailored care strategies to serve the patient."
Powered by the proven B-Capta sensing technology, the Essenz ILBM is the only in-line blood monitoring system that works within Clinical Laboratory Improvement Amendments (CLIA) guidelines and provides parameter values in line with hospital blood gas analyzers, even prior to alignment. To enable accurate monitoring, the ILBM provides measured values for oxygen saturation, hematocrit, partial pressure of oxygen and temperature, rather than calculated values for these parameters.
In addition, Essenz ILBM requires no calibration to set device measurements, allowing the perfusionist to save time during device set up, especially in emergency cases. Arterial and venous parameters are automatically transferred to the Essenz Patient Monitor, supporting data-driven decision making and the implementation of goal-directed perfusion (GDP), a therapy effective in reducing the risk of acute kidney injury. The latest heart-lung machine software, version 1.3, integrates the ILBM with the Essenz Perfusion System and was developed to continually enhance the user experience.