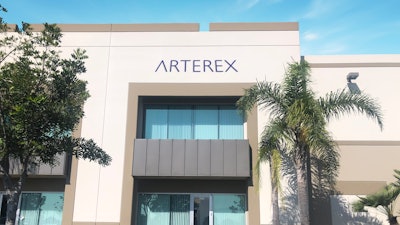 Arterex
Arterex, a medical device contract manufacturer, today announced that it has opened a new sales and distribution facility in Southern California. The 25,000-square-foot facility located in San Diego will act as a sales and distribution point for all Arterex Medical Products brands. Customers within the North and Central American medical device market can benefit especially from the local availability of Arterex's three European brands' products that include Luc & Bel, Kabo and ModenPlast.
"Our new facility directly addresses the need for improved lead times and quality product procurement. We have a very broad offering with just in time delivery, excellent quality, and competitively priced products that will service the North and Central American markets with local supply," said Jeff Goble, CEO of Arterex.

The new location brings a near shore option for customers to purchase and utilize each of their brands' extensive product lines and service offerings. This new facility serves all of North America, as well as Costa Rica, Nicaragua, and the Dominican Republic. The San Diego facility will be managed by Rachel Okerman, LCB as Vice President Sales Operations and the business development initiative led by Steve Walsh, Vice President Sales.
The Arterex Medical Products brands offer a diverse and comprehensive line of fluid management products for infusion (IV Therapy), transfusion, hemodialysis, cardio surgical, enteral & parenteral feeding, and many other types of fluid management for medical applications. Arterex offers high quality OEM medical components, a comprehensive product line, highly competitive pricing, assemblies and product design and development services. The company offers inventory management (JIT, KANBAN, dock to stock, delivery programs), inspection, and advanced engineering support.
"Our US team has over 70 years of experience in the medical components field. This new facility is staffed by highly experienced and motivated professionals that offer a customer-focused experience that shortens the supply chain lead time and lowers customer inventory, utilizing our successful Kanban and Just-in-Time delivery systems. Arterex Medical Products - San Diego will greatly benefit any medical device or medical fluid management company and their contract manufacturers," adds Rachel Okerman, Vice President of Sales Operations.