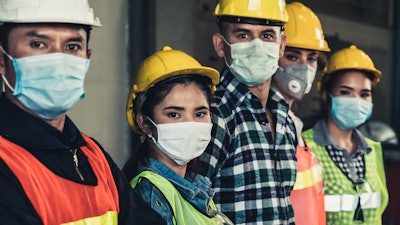 iStock
The National Association of Manufacturers released a new study outlining steps to improve health care supply chain resilience to allow manufacturers in the U.S. to better prepare for and adapt to the next disruption.
The study analyzes lessons learned from the COVID-19 pandemic, during which manufacturers across the U.S. produced critical health care supplies in a highly unpredictable environment that affected every industry level.
"During the COVID-19 pandemic, manufacturers in the United States helped lead our response and recovery and learned many lessons in the process," said NAM Chief Economist Chad Moutray. "Policymakers should utilize these lessons to bolster our supply chain for the next disruption. This analysis, which was conducted by the Manufacturing Policy Initiative at Indiana University, reveals that there are key policy actions needed to strengthen the manufacturing supply chain."
Key Themes
Seven key lessons from the pandemic can be examined for future efforts to build resilience:
Speed matters:

Manufacturers need to be able to serve demand quickly.

Information matters: Manufacturers need timely access to accurate information.
Costs matter: Firms face the costs of taking action within the supply chain, as well as the costs of managing market unpredictability and policy environment uncertainty.
Networks matter: Partnerships can support information sharing and networks to help manufacturers navigate the disruption.
Size matters: Small and medium-sized manufacturers and new firms can be differently—and uniquely—challenged compared with established larger manufacturers.
Technology matters: Technology can enable manufacturers to enhance production, innovate or improve efficiency, as well as support broader efforts to build partnerships.
Flexibility matters: Responses can come from unexpected sources and need a flexible policy environment.
Areas of Opportunity
The report identifies four key areas of opportunity to enhance health care supply chain resilience:
Fostering a conducive regulatory environment:

Manufacturers and their partners need clear and streamlined regulations as well as a flexible regulatory framework in advance of the next disruption.

Supporting partnerships for stronger information sharing and networks: Sustained information channels between manufacturers and policymakers will improve access to information for all parties and mitigate disruptions.
Ensuring a healthier "baseline" industry: Small business plays a pivotal role in the U.S. Robust entrepreneurship and scaling of new manufacturers contribute to a more competitive industry.
Prioritizing changing workforce needs: Workforce development must be prioritized so that manufacturers can pivot across product lines and sectors to meet the needs of the next disruption.