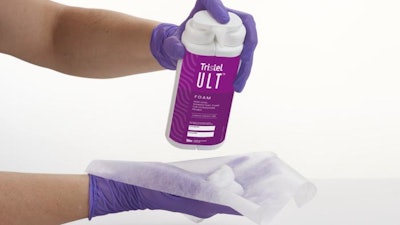 Parker Laboratories
Parker Laboratories has announced the US Food and Drug Administration (FDA) has granted clearance for a unique disinfecting foam, called Tristel ULT, as a high-level disinfectant for ultrasound probes used within body cavities and for skin-surface transducers.
Tristel ULT is manufactured and distributed for US markets by Parker Laboratories under an exclusive commercial partnership with UK-based Tristel. Tristel ULT is a high-level disinfectant using a proprietary foam containing chlorine dioxide, which is widely used to disinfect drinking water and which a recent major review confirms as "a safe and effective disinfectant."
It is the only high-level disinfectant foam that can be safely used on ultrasound probes, and it has been shown to be effective against pathogens ranging from SARS-CoV-2 to Mycobacterium tuberculosis.
"More than 215 million ultrasound scans are performed in the United States each year, with approximately 20% of them requiring high-level disinfection," says Neal Buchalter, president of Parker Laboratories. "Tristel ULT is the first product of its kind in the US, a high-level disinfectant foam for reprocessing ultrasound probes. As the exclusive manufacturer of Tristel ULT and Tristel DUO in the US, Parker Laboratories now offers a complete line of disinfecting solutions for ultrasound departments. These new products are just a few of the innovative and cost-effective solutions we are committed to bring to market to increase patient safety and improve workflow in the healthcare setting."