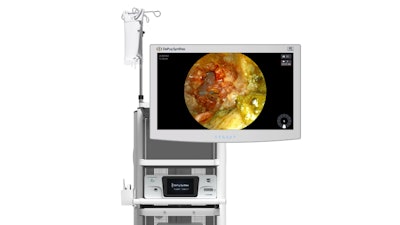 DePuy Synthes
Today, Johnson & Johnson MedTech announced that DePuy Synthes, the orthopedics company of Johnson & Johnson, has secured 510(k) clearance from the FDA for its TELIGEN System, an integrated technology platform that enables minimally invasive surgical transforaminal lumbar interbody fusion (MIS-TLIF) procedures through digital tools for visualization and access.
The TELIGEN System is comprised of a tower that delivers a suite of technologies, including: a camera control system, a VueLIF-T Procedure Kit with a disposable HD camera, a TELIGEN Clear Discectomy Device and patient-based disposable ports. The TELIGEN System integrates with the UNLEASH bundle of implant solutions, which is designed to streamline the main stages in MIS-TLIF.
The TELIGEN System delivers a visualization experience and user-centric procedural control. The digitally enabled TELIGEN VUE Camera, located at the distal end of the patient-specific port, eliminates the need for a microscope and can provide an unobstructed view of the surgical site. It offers hands-free visualization during the procedure, along with a multidirectional and expanded field of view. Additionally, the self-cleaning camera includes LED lighting and gives surgeons the ability to manipulate image clarity based on their preference.