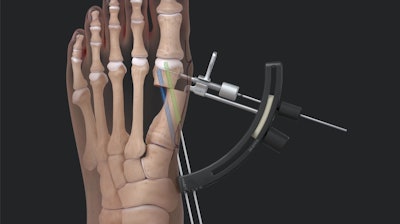 Arthrex
Arthrex, a provider of minimally invasive orthopedic technology, has launched the Arthrex Minimally Invasive Bunionectomy System to offer patients a solution to traditional bunion surgery.
The Arthrex Bunionectomy System is designed to be an all-inclusive set to facilitate minimally invasive surgical bunion correction. It has achieved the same or better corrective results than traditional surgery with less downtime, pain and swelling.
Performed through tiny incisions, this minimally invasive procedure means patients can achieve complete bunion correction and get back on their feet faster. Studies show Arthrex Bunionectomy patients' average recovery is up to eight weeks faster than traditional open procedures, as published in the journal Foot & Ankle International.
Patients also experienced more cosmetically appealing results, with smaller incisions that leave behind almost no visible scars.
Along with the procedure, Arthrex launched two websites geared toward patients and surgeons, respectively. BunionPain.com offers patients educational materials and connects them with local surgeons trained in the Arthrex Bunionectomy. Bunionectomy.arthrex.com is geared toward clinicians and offers a way to connect with Arthrex Technology Consultants and Medical Education representatives for information on and training in the Arthrex Bunionectomy System.