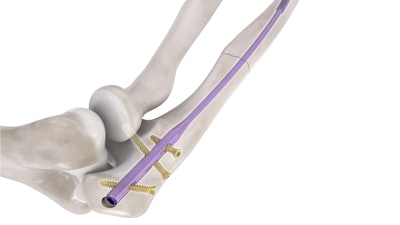 Conventus Flower Orthopedics
Conventus Flower Orthopedics announced it has received FDA 510(k) clearance for the Flex-Thread Ulna Intramedullary (IM) Nail System. The Flex-Thread Ulna Nail marks a new application and portfolio expansion to the company's Flex-Thread technology platform.
Expected to launch in February 2023, the Flex-Thread Ulna IM Nail is intended for use in the fixation of fractures and osteotomies of the ulna. The first and only flexible, threaded ulna IM nail will be available in a wide range of diameters and lengths.
The Flex-Thread technology platform was introduced in 2021 with the Distal Fibula Nail System. The unique flexible design allows the nail to "flex" as it is inserted into the intramedullary canal, providing ease of insertion and point-contact fixation within the intramedullary canal.
"We are excited to introduce our second system within our Flex-Thread platform. The Flex-Thread Ulna Intramedullary Nail System demonstrates our continued commitment to introducing innovative and differentiated technology to the market," said Brad Niemann, CEO. "With over 650 cases utilizing our Flex-Thread Distal Fibula Nail System, we have seen tremendous results and have been extremely pleased with the adoption of this unique technology. We expect the Flex-Thread Ulna Intramedullary Nail System to be well received and a terrific option for fracture management in the upper extremity market segment."