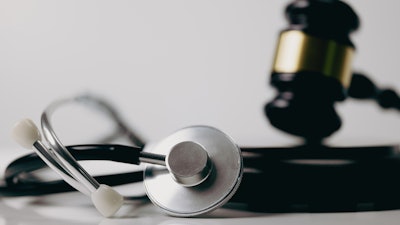 iStock
Medical device manufacturer DePuy Synthes (DePuy), a subsidiary of Johnson & Johnson, has agreed to pay $9.75 million to resolve allegations it violated the False Claims Act by paying kickbacks to an orthopedic surgeon based in Massachusetts to induce his use of DePuy products.
The settlement announced today resolves allegations that DePuy violated the Anti-Kickback Statute (AKS) and caused the submission of false or fraudulent claims to Medicare by paying the orthopedic surgeon kickbacks in the form of free spinal implants and tools for use in surgeries that the surgeon performed overseas to induce that surgeon to use DePuy products in surgeries performed in the United States. As part of the settlement, DePuy has admitted that from at least July 2013 through February 2018, DePuy, acting through certain former sales representatives, gave the Massachusetts surgeon thousands of dollars' worth of free DePuy implants and instruments, including cages, rods, screws, plates, and surgical instrumentation, that the surgeon used to perform surgeries overseas for patients who were not federal health care beneficiaries. Of the $9.75 million to be paid by DePuy, approximately $7.23 million will be returned to the federal government, and approximately $2.52 million will be returned to Massachusetts, which jointly funded claims for surgeries involving DePuy devices that were submitted to the Massachusetts Medicaid program.
The AKS prohibits offering, paying, soliciting, or receiving remuneration to induce referrals of items or services covered by Medicare and other federally funded programs. The statute is intended to ensure that medical providers' judgments are not compromised by improper financial incentives and are instead based on the best interests of their patients.
"Medical device manufacturers are prohibited from providing free items to induce a physician to use their devices," said Principal Deputy Assistant Attorney General Brian M. Boynton, head of the Justice Department's Civil Division. "When medical devices are used in surgical procedures, patients deserve to know that their device was chosen based on quality of care considerations and not on improper inducements from manufacturers."
"Today the United States resolves allegations that DePuy provided over $100,000 worth of free product to a surgeon in order to secure and reward that physician's continued business," said U.S. Attorney Rachael S. Rollins for the District of Massachusetts. "Unlawful kickbacks can severely distort medical judgment as well as the market for medical devices. The millions of patients that depend on our health care system deserve untainted medical decisions. This settlement reflects our commitment to stamping out illegal kickbacks."
"The American people, as both taxpayers and consumers, expect medical device manufacturers like DePuy to abide by relevant laws and regulations. When such health care companies provide illegal kickbacks in order to boost profits, their actions erode public confidence in the health care system, can compromise the patient-physician relationship, and waste government health program funding," said Special Agent in Charge Phillip M. Coyne of the U.S. Department of Health and Human Services, Office of Inspector General (HHS-OIG). "In close cooperation with our law enforcement partners, we will continue to thoroughly investigate allegations of fraud to protect both federal health care programs and those served by them."
"Today's settlement makes it crystal clear that it is illegal for medical device companies to provide physicians with free medical products to win business and boost their bottom line through illegal kickback schemes," said Special Agent in Charge Joseph R. Bonavolonta of the FBI Boston Division. "Every year, health care fraud costs taxpayers billions of dollars. It is not a victimless crime and this unscrupulous scheme orchestrated by DePuy is just one example of how the FBI and our partners are working hard every day to protect both patients and taxpayers."
The lawsuit was originally filed under the qui tam or whistleblower provisions of the False Claims Act by Aleksej Gusakovs, who is a former sales representative for DePuy. Under those provisions, private parties, known as relators, can file an action on behalf of the United States and receive a portion of the recovery. The qui tam case is captioned United States et al. ex rel. John Doe v. Johnson & Johnson, et al., No. 17-cv-11502 (D. Mass.). As part of today's resolution, Gusakovs will receive approximately $1.37 million.