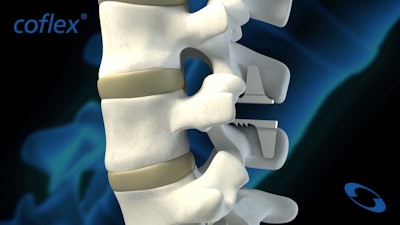 Coflex
Xtant Medical, a global medical technology company focused on surgical solutions for the treatment of spinal disorders, and Surgalign announced the completion of a transaction between the companies.
On February 28, 2023, Xtant Medical and Surgalign entered into an agreement and subsequently closed on the transaction whereby Xtant acquired the Coflex and Cofix product lines from Surgalign for a total consideration of $17 million.
Coflex is an interlaminar stabilization device used after an open decompression that can be performed in various settings, offering a non-fusion treatment option for lumbar spinal stenosis (LSS) patients. The number of patients diagnosed globally with LSS is approximately 2.4 million representing the largest single-growing patient demographic in spine. The Coflex device is the only FDA PMA-approved implant for the treatment of LSS, has been implanted in more than 200,000 patients in over 60 countries, is clinically validated with more than 90 peer reviewed publications and has established Ambulatory Surgery Center (ASC) reimbursement. Cofix is a supplemental fixation device, which is a minimally invasive system intended for use on all levels of the lumbar spine.
"We are thrilled to acquire the Coflex and Cofix product lines, which will help accelerate our top-line growth and position Xtant to achieve critical mass," said Sean Browne, President and CEO of Xtant Medical. "Coupled with our less invasive Axle interspinous device and Silex SI Fusion product lines, Coflex augments our offering in the fast-growing segments of ASC and outpatient procedures. Aligning with our key growth pillars, this acquisition expands our footprint by adding new distributors and a significant number of trained surgeons to the Company's network. We expect these products to add approximately $14 million in annual revenue and attractive margins to enable Xtant to achieve profitability in the near future."