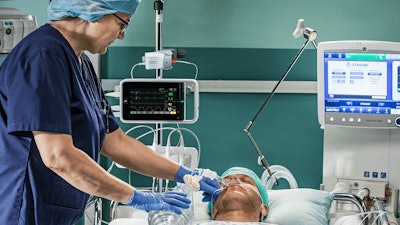 GE Healthcare
Clinicians now have added ability to personalize care with the integration of two continuous monitoring solutions from Medtronic – Microstream capnography (CO2) and INVOS regional oximetry (rSO2) technology for perioperative and ICU care on the GE Healthcare CARESCAPE precision monitoring platform.
FDA clearance and CE Mark approval of the integration of these latest technologies on the CARESCAPE platform completes the full suite of Medtronic patient monitoring technologies available on the system. The combined solution also features GE Healthcare FlexAcuity which gives clinicians around the world the ability to choose care options based on patient acuity needs and assist them in their goal of earlier detection of patient deterioration.
The INVOS regional oximetry (rSO2) technology solution monitors for signs of hemodynamic changes and deteriorating patient conditions associated with cerebral desaturation events. When used as an indication of compromised cerebral oxygenation, INVOS technology can help clinicians return the patient's rSO2 to baseline and has been shown to improve postoperative outcomes including hospital length of stay, POD, and MOMM. Patients undergoing on-pump coronary artery bypass grafting (CABG) spent an average of 14 hours less in the ICU when receiving near-infrared spectroscopy-guided care with INVOS rSO2.
The advanced Microstream capnography (CO2) technology solution offers clinicians early indication of patient decline and is validated for neonate to adult patients. It uses a proprietary CO2-specific infrared wavelength that is highly accurate and unaffected by the presence of other gases. The technology also features Smart Capnography algorithms engineered to enhance patient safety, improve clinical workflow, and ease alarm fatigue by reducing clinically insignificant nuisance alarms by 53%. This technology potentially cuts down on the high demand placed on providers to respond to non-emergent issues.
GE Healthcare and Medtronic have received CE (Conformité Européenne) Mark on the technologies included in this advanced system as well as U.S. Food and Drug Administration (FDA) 510(k) clearance for CARESCAPE software v3.2 with Microstream and INVOS.