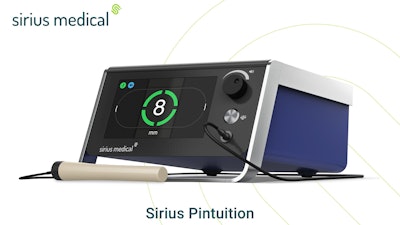 Sirius
Sirius Medical said Ascension St. Vincent Carmel and Ascension St. Vincent Evansville are the first U.S. hospitals to implement the Pintuition System in their breast surgery programs. Both hospitals are part of the Ascension Health System in Indiana.
The Sirius Pintuition System is CE marked and FDA 510(k) cleared and over 3,000 procedures have been performed worldwide. The system is wire-free with a multi-sensor probe and GPSDetect software that provides navigation with directional guidance to locate tumors easily and accurately.
"We are hearing from our customers that Pintuition's reliability and navigation capabilities make the technology applicable for teaching and community hospitals alike as surgeons find it elegant and simple to use," remarks Bram Schermers, CEO Sirius Medical. "This, combined with our affordable and innovative financial models, takes away the barriers in acquiring new technology and makes it easier for physicians and their institutions to implement a better standard of care with surgical navigation."