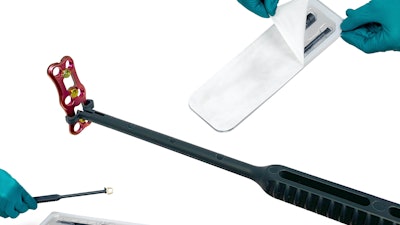 Xenco
Xenco Medical has expanded its ASC surgical device portfolio through the FDA clearance and launch of its Multilevel CerviKit, an expansion of Xenco Medical's single-use cervical spine technology to include a suite of implants and single-use instruments for 2, 3, and 4 level anterior cervical spine procedures.
Optimized for the ambulatory surgery center setting, the Multilevel CerviKit builds on Xenco Medical's existing portfolio of disposable spinal implant and instrument platforms included in its ASC CerviKit and adds to its portfolio of single-use lumbar surgical devices. The cervical plating options included in the Multilevel CerviKit feature a thin profile, a locking mechanism, and a dual textured surface for thorough fixation.
The surgical platform is a sterile-packaged, single-use system designed to enhance intraoperative efficiency. Matched with a disposable delivery instrument and coupled with corresponding, single-use surgical instruments, the Multilevel CerviKit is engineered to complement Xenco Medical's existing portfolio of single-use spinal systems.
"As COVID-19 spurred increased demand for sterile-packaged, single-use spinal platforms and accelerated growth in the volume of outpatient cervical spine procedures, we have bolstered our commitment to expanding access to safer, streamlined surgical procedures through the launch of our single-use Multilevel CerviKit," said Xenco Medical Founder and CEO Jason Haider.