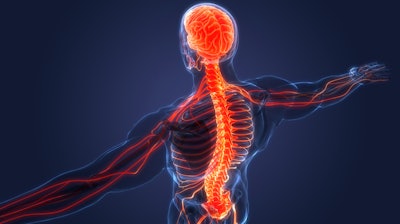 iStock
Medtronic has received U.S. Food and Drug Administration (FDA) 510(k) clearance and Breakthrough Device designation for its novel LigaPASS 2.0 Ligament Augmentation System. The company said LigaPASS is the first and only FDA cleared device with indication for ligament augmentation in spine surgery.
Ligament augmentation has been studied for its impact on proximal junctional kyphosis (PJK), a frequent post-operative complication of adult spinal deformity surgery. While the exact cause is unknown, PJK is thought to involve disruption of spinal ligaments and can affect up to 46% of patients. The condition can significantly impact a patient's quality of life. The severity of PJK can vary, and some patients may develop a more severe form of the condition called proximal junctional failure (PJF). Patients who develop PJF may develop structural and neurological complications, which increases the need for revision surgery.
"The surgical treatment of adult spinal deformity provides significant clinical benefit to patients but unfortunately many require revision due to early mechanical failure. The most common cause of mechanical failure is proximal junctional kyphosis, "said Christopher Ames, M.D., director of spinal tumor and spinal deformity surgery at UCSF Medical Center in California. "Failure reduction strategies, such as ligament augmentation, are likely to become critical techniques in the treatment of this challenging patient population. In my practice, LigaPASS 2.0 helps me meet my goals to reduce revision surgeries with these patients."
The ligament augmentation technique aims to reduce the re-operation rate for PJF and its associated costs, which can be more than $50,000 per procedure.
The LigaPASS 2.0 system can also be paired with the UNiD Adaptive Spine Intelligence (ASI) platform. UNiD ASI uses data science and artificial intelligence to help surgeons plan, execute and analyze their procedures. LigaPASS 2.0 system connectors and bands may also be used in conjunction with the CD Horizon Solera spinal system.
"This clearance and Breakthrough Device designation demonstrates our ongoing commitment to innovation in spine surgery and delivering industry-leading solutions that improve care for patients and improve the experience for surgeons," said Dan Wolf, vice president and general manager, intelligent Data Solutions at Medtronic.