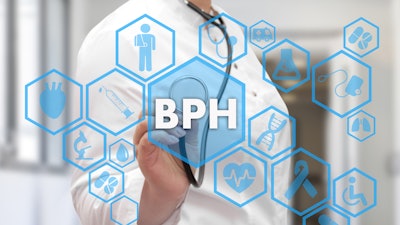 iStock
Olympus said it completed the first commercial treatment of Benign Prostatic Hyperplasia (BPH) in Canada using the minimally invasive iTind procedure.
Dr. Dean Elterman, a urologist at University Urology Associates and a faculty member in the University of Toronto's Division of Urology, is the first physician in Canada to perform the iTind procedure to treat BPH, also known as an enlarged prostate.
Treatment with the iTind procedure takes a week and works by gently reshaping the prostate. The device's three nitinol (nickel titanium alloy) struts gradually expand while the temporary implant is in place, creating channels through which urine can flow. Once the device is removed, most men go home without the need of a catheter, and the procedure does not limit patients to any future treatment options.
Placement and retrieval can be done in a hospital, ambulatory surgery center, or medical office setting, and this flexibility in the site of care means the iTind procedure can be offered by physicians almost anywhere, including smaller, rural facilities.
The iTind procedure is indicated for men 50 years and older and does come with the possibility of side effects, including pelvic discomfort, blood in the urine and painful or urgent urination. In rare cases, the device may cause urinary tract infection or a sudden difficulty to urinate.