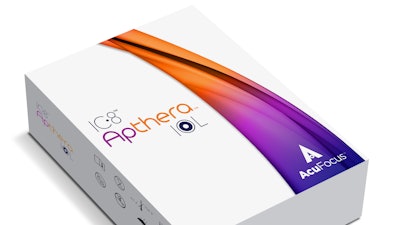 Business Wire
AcuFocus, a privately held ophthalmic medical device company, today announced U.S. Food and Drug Administration (FDA) approval for its breakthrough IC-8 Apthera intraocular lens (IOL) for the treatment of cataracts.
The company said the Apthera IOL is the first and only non-toric extended depth of focus IOL approved for the 82% of cataract patients who have as much as 1.5 diopters (D) of corneal astigmatism.
"We are delighted to receive FDA approval for our first-of-its-kind Apthera IOL," said Al Waterhouse, president and chief executive officer for AcuFocus. "The Apthera IOL represents several firsts for surgeons and patients: the first small aperture IOL to receive FDA approval, the first lens indicated for implantation with a monofocal or monofocal toric IOL in the fellow eye, the first extended depth of focus lens indicated for monovision, and the first non-toric IOL indicated for cataract patients with low amounts of corneal astigmatism."
Cataracts are a common condition affecting an estimated 24 million people in the United States. Cataracts can only be treated with surgery in which the cloudy natural lens is removed and an artificial lens, or IOL, is implanted.1 Most patients receive a monofocal IOL at the time of cataract surgery. While monofocal lenses provide excellent distance vision, objects up close remain blurry. Other available presbyopia-correcting lens designs have complex optics that split, shift, or stretch light to provide clear vision at more than one discrete focal point. In contrast, the Apthera IOL, with its proprietary small aperture technology, provides excellent distance vision as well as clear intermediate and near vision, effectively mitigating the effects of presbyopia.
"The Apthera IOL is the first lens design, with its embedded FilterRing component, to mitigate the effects of presbyopia by simply filtering out peripheral defocused and aberrated light that degrades image quality. This allows central focused light to be delivered to the retina," said Vance Thompson, MD of Vance Thompson Vision, Sioux Falls, South Dakota. "This novel mechanism of action provides patients with continuous range of vision from far through intermediate and near, even if they have as much as 1.5 D of corneal astigmatism."