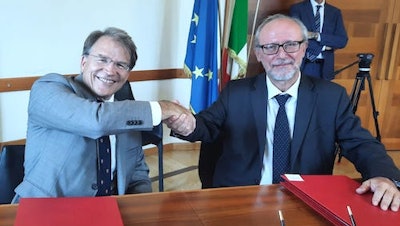 Business Wire
The Alliance for Paired Kidney Donation (APKD), an Ohio-based, non-profit organization managing an international kidney exchange registry, today announces the launch of a pilot kidney exchange transplant program between the United States and Italy. The signing of the agreement, between APKD and Centro Nazionali Trapianti (CNT), the organization which manages all transplantation activity in Italy, allows for the first-ever exchange of living donor kidneys between Europe and the United States.
The goal of the memorandum of understanding, which was signed at the Ministry of Health in Rome, is to provide for the possible treatment of thousands of patients awaiting kidney transplants in both the U.S. and Italy. The agreement was signed on behalf of CNT by its director, Massimo Cardillo, and by Michael A. Rees, MD, PhD, the CEO of APKD and the surgical director of kidney transplantation at the University of Toledo Medical Center in Ohio.
The new U.S.-Italy program concerns kidney exchange transplantation, in which incompatible living donor and recipient pairs are matched with other incompatible pairs for kidney transplants. Thanks to the agreement between APKD and CNT, incompatible American and Italian donor-recipient pairs will be able to exchange with each other based on a shared algorithm that will verify the level of compatibility between those on the countries' transplant waiting lists. In this way, patients with kidney failure, who also have an incompatible volunteer donor, will have a greater chance of receiving the transplant they need.
In addition to the technical-operational aspects – such as the requirements of the participating hospitals, matching algorithm and overall governance of the transplant process – the agreement provides that the costs related to the transplant procedure are borne by the U.S. insurance coverage for the U.S. recipient and the Italian donor, while the Italian National Health Service will cover the expenses for the Italian recipient and the American donor. Transplant surgeries will take place in the country where the recipient is located.
The pilot phase of the program will cover the first three cases and will be limited to one hospital in Italy, while in the U.S., chosen APKD partner transplant centers will be accepted into the program with the approval of CNT. Once the initial operational and management process has been completed, the program will be re-evaluated for possible consolidation of the protocol and the progressive expansion to other living kidney transplant centers of the Italian and APKD networks.
This kidney exchange program with the U.S. is the second international exchange program launched by Italy. Since 2018, Italy has had an agreement involving France, Portugal and Spain, which has resulted in three kidney exchange transplants with the latter nation.