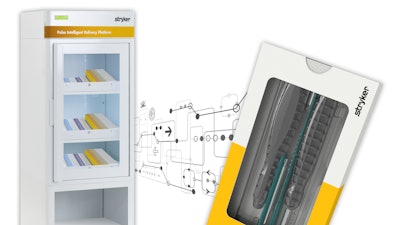 Stryker
Stryker has launched its Pulse Intelligent Delivery Platform, a product and fulfillment offering optimized for high-volume foot and ankle procedures in the ambulatory surgery center (ASC) setting.
The company will also feature its Prophecy Footprint Surgical Planning, which will be the first surgical planning tool to provide clinical guidance on the whole foot in connection with total ankle arthroplasty.
"This is an exciting year for Stryker's Foot & Ankle business, as we continue to expand our robust portfolio to meet the needs of our surgeon customers," said Michael Rankin, VP of marketing and medical education for Stryker's Foot & Ankle business. "With the launch of the Pulse Intelligent Delivery Platform, we now offer a comprehensive suite of products that provides a robust program for foot and ankle surgery within an ASC setting."
The Pulse Intelligent Delivery Platform provides an integrated product configuration and delivery offering for foot and ankle surgery within the ASC setting of care through:
Smarter Configurations: Pulse offers a comprehensive suite of surgery-ready forefoot products designed to reduce clutter in the operating room as well as provide ease of use, sterilization processing cost savings and sustainability.
Personalized Inventory: Pulse's procedure mapping technology learns from customer preferences and makes inventory recommendations to keep facilities stocked with what they need.
Automated Service: Radio frequency identification (RFID) technology monitors ASC inventory and triggers replenishment orders automatically, providing peace of mind to ASC stakeholders and surgeons alike.