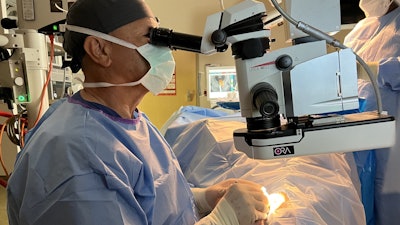 Whitsett Vision Group
Whitsett Vision Group said it is the first ophthalmologist group in the country to perform cataract surgeries using a new lens approved by the Food and Drug Administration (FDA) and that the practice has added another lens to its patient offerings. Both lenses have been shown to improve patients' vision and overall quality of life.
The two new lenses include the Lenstec ClearView 3, a multifocal intraocular lens, and the RxSight Light Adjustable Lens (LAL).
In clinical trials, patients reported having high-quality distance and near vision after receiving the ClearView 3 lens. They also did not experience dysphotopia, a common condition after cataract surgery, which is best described as the appearance of arcs, streaks, starbursts, or rings.
"The ClearView 3 from Lenstec has been designed with increased precision, accuracy, and stability, which results in excellent long-term visual outcomes at near, intermediate, and distance," said Whitsett.
Whitsett and his team performed the first surgeries using ClearView 3 as recently as Aug. 15.