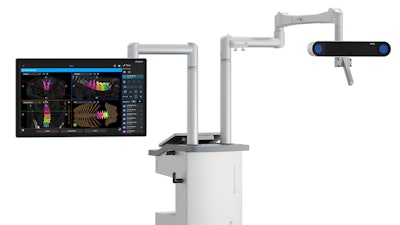 Stryker
Stryker announced today the launch of its Q Guidance System for spine applications. The system combines new optical tracking options provided by a redesigned camera with algorithms of the newly launched Spine Guidance Software to deliver more surgical planning and navigation capability.
When used with the Q Guidance System, the Spine Guidance Software is intended as a planning and intraoperative guidance system to enable open or percutaneous computer-assisted surgery and is the first spine navigation software to receive FDA clearance for use with pediatric patients aged 13 and older.
Q Guidance offers surgeons numerous benefits, including:
A proprietary camera: The Q Guidance System features a 4th generation FP8000 camera that offers improved speeds and the flexibility of multiple optical tracking methods, including full-spectrum active/passive hybrid optical tracking.1 It is the only guidance system with proprietary active technology and a non-invasive patient tracker, SpineMask.
Image processing: Spine Guidance Software features completely redesigned applications, semi-automatic and automatic processing features, gesture recognition, and broad compatibility with various types of image sets.
Spine Guidance Software: Spine Guidance Software is designed to help surgeons optimize their workflow, minimize their time in the OR and address complex clinical decisions and techniques intraoperatively. Its computational power is designed to support our spine product and software roadmap. It is our intention to develop and release new technologies within the Q ecosystem.