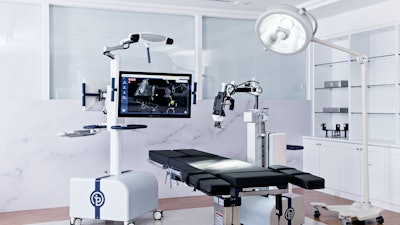 Point Robotics
Point Robotics MedTech received 510(k) clearance from the U.S. Food and Drug Administration (FDA) for its minimally invasive surgical robot, POINT Kinguide Robotic-Assisted Surgical System, in August.
This premarket notification marks both Taiwan's very first FDA-cleared surgical robot and the first ever hand-held robot framework equipped with a parallel manipulator for orthopedic application in the world, according to the company.
An integrated surgical system including both image-guided navigation and hand-held drilling features, the "Kinguide Robotic-Assisted Surgical System" streamlines procedural tasks and reduces surgeon's burdens during spinal fusion surgeries. The major difference between Point Robotics' product and the others is the expandability of the indication for more complicated Herniated Disc Decompression surgery enabled by the unique parallel manipulator mechanism.
Point Robotics is preparing for CE marking in Europe and registration certificate in China to begin global deployments and to access international markets.