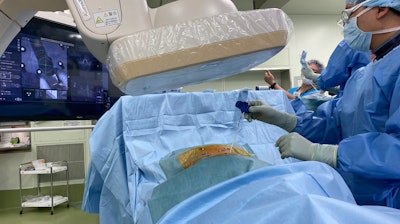 Philips
Royal Philips has expanded rollout of its augmented reality (AR) surgical navigation solution - ClarifEye - to Japan.
Installed on a Philips interventional X-ray system in a hybrid operating room at Mita Hospital, ClarifEye helped the hospital's orthopedic surgeon Dr. Ken Ishii to successfully treat patients with spinal stenosis (narrowing of the spaces in the spine) and scoliosis (sideways curvature of the spine) via minimally-invasive image-guided procedures.
Due to its aging population, the number of spine surgeries performed each year in Japan continues to increase. Lumbar spinal canal stenosis, the most common spinal disease, is currently found in approximately 10.8% of the country's 70-79 year olds. In patients with severe symptoms, surgical procedures are typically performed, including excision of the compressed area and fixation of the bone with screws or other fixtures.
Traditionally, these fixation devices have been placed through a large incision with direct observation of the affected vertebra. However, they are now increasingly being placed via minimally-invasive procedures performed through small incisions, minimizing bleeding and soft tissue damage, reducing postoperative pain, and making treatment available to patients at risk from the trauma of open surgery. Philips' augmented reality surgical navigation solution - ClarifEye - combines 2D and 3D visualizations at low X-ray dose with 3D AR navigation into one system. It enables surgeons to define and navigate critical trajectories for precise device placement while avoiding damage to fragile neurological and vascular structures close to the patient's spine.
"The benefit of performing spine surgery in the Hybrid OR includes the ability to acquire 3D CT images at low dose, having a lot of space, and being able to use the large monitor," said Dr. Ken Ishii, Department of Orthopedic Surgery, International University of Health and Welfare, Mita Hospital. "The addition of a new navigation system helps to create an even safer surgical environment. Compared to existing navigation systems, ClarifEye has no reference frame-related errors, and it's wonderful that it achieves real time imaging with pedicle segmentation. ClarifEye is a new technology that truly offers minimally invasive surgery for patients and clinical staff."