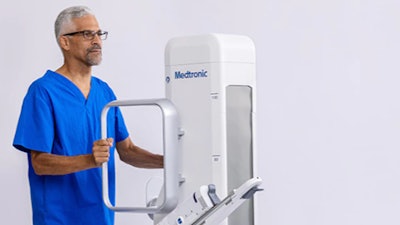 Abbott
Medtronic has announced three significant global market-entrance and indication expansion approvals for its Hugo robotic-assisted surgery (RAS) system.
The approvals include:
Conformité Européenne (CE) Mark clearance for general surgery indication;
Health Canada licence for general laparoscopic surgery indication; and
Ministry of Health, Labor, and Welfare (MHLW) approval for urologic surgical and gynecologic laparoscopic indications in Japan.
The new system approvals and indications set the stage for significant access across Europe, North America, and Asia — extending the benefits of minimally invasive surgery to new global audiences.
"Receiving these important approvals paves the way for our expansion into key robotic markets," said Mike Marinaro, senior vice president and president, Surgical Robotics, which is part of the Medical Surgical Portfolio at Medtronic. "The Hugo RAS system was designed to address the barriers to robotic surgery adoption, and these approvals are significant steps in bringing the benefits of minimally invasive surgery to more patients in more places around the world."
Medtronic's expansion into surgical robotics represents a significant growth opportunity for the company and builds on its more than 60 years of experience in surgical and healthcare innovation in partnership with clinicians around the world.
The Hugo RAS system, combined with Touch Surgery Enterprise, offers a smart, digitally enabled surgical experience, and is already being used in general surgery procedures at hospitals in the Asia Pacific and Latin America regions. The procedures range from common to more complex and include cholecystectomy, inguinal hernia repair, gastric bypass, and lower anterior resection.
A modular system, Hugo combines wristed instruments, 3D visualization, and Medtronic's Touch Surgery Enterprise, a cloud-based surgical video capture and management solution, with dedicated support teams specializing in robotics program optimization, service, and training. Touch Surgery Enterprise is a first-of-its-kind AI-powered platform that makes sharing surgical video simple and provides surgeons with a powerful new training tool.
The Hugo RAS system is commercially available in certain geographies. Regulatory requirements and status in individual countries and regions will determine market availability of the Hugo RAS system and approved indications. In the U.S., the Hugo RAS system is an investigational device not for sale.