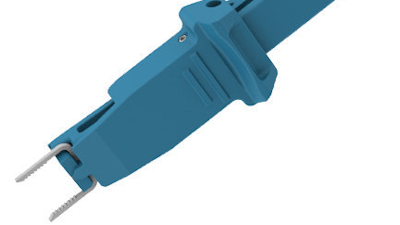 Tyber Medical
Tyber Medical, a medical device provider for major orthopedic trauma, extremity and spine companies, has been awarded a U.S. Food and Drug Administration (FDA) 510(k) clearance for its new NiTy+ One-Shot™ Staple Fixation System. The NiTy+ One-Shot features a single-pass insertion instrument. Designed with surgical efficiency in mind, the NiTy+ One-Shot is particularly beneficial in the case of fracture, osteotomy fixation, and joint arthrodesis.
"We are pleased to receive another FDA clearance that extends our reach into the orthopedic device market with our ever-growing suite of cleared bone-fixation devices," said Tyber Medical CEO and President Jeff Tyber. "Our product design and engineering team developed a superior method for staple implantation that enhances surgical efficiency. With one instrument, surgeons can deploy and insert staples, while remaining focused on the field of view at all times."
The system's innovative insertion tool is equipped with pre-loaded staples and an integrated tamping mechanism, eliminating the need for a second instrument to fully seat staples into the bone requiring fixation. Two instruments are combined into a single insertion tool, which can also reattach to the staple, allowing enhanced positioning control.
Tyber Medical's NiTy+ One-Shot Staple Fixation System consists of sterile, single-use orthopedic implants and fully disposable instruments, removing the need for facility reprocessing. The compression staples are constructed from super-elastic nickel-titanium (Nitinol) and are available in two or four-legged designs with multiple combinations of bridge widths, leg lengths, and cross sections to accommodate various anatomies and pathologies. The staple implant applies optimum compression across bone segments when the staple implant legs are released. The disposable inserter supplies opposing forces to the staple legs to keep them parallel during implantation.