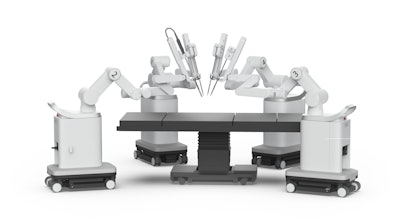 Ronovo Surgical
Ronovo Surgical recently announced successful closing of new financing to accelerate its vision of cross-specialty adoption of robotic-assisted surgery (RAS). The latest round of financing arms Ronovo with more than $50 million raised since 2020. Led by LongRiver Investments (LRI), this round garnered continued support from existing investors – Lilly Asia Ventures, Vivo Capital, Matrix Partners China and GGV Capital – with CEC Capital acting as exclusive financial advisor.
Exiting stealth mode, Ronovo unveils its inaugural robotic platform – Carina, a modular system built on proprietary technology to enable configurable robotic assistance for laparoscopic surgeries across multiple specialties. This round of oversubscribed financing will accelerate the multi-discipline clinical trial for Carina, strengthen R&D and clinical applications development, and further bolster the company's deeply experienced talent base.
Developed in collaboration with renowned Chinese laparoscopic surgeons, Carina addresses numerous pain points in minimally invasive surgeries (MIS) with a modular and nimble robotic solution. The system provides surgeons flexibility to choose the best instruments and the most ideal anatomical access based on laparoscopy foundation. In this way, surgeons can leverage – rather than abandon – prior laparoscopic training and continue to improve upon their surgical performance, allowing for MIS in more surgical specialties to be performed robotically.
The modular architecture of Carina minimizes equipment footprint to maximize utilization of precious OR space, thus becoming much more adaptable to typical OR environments in China. The surgical team can choose between 3-module or 4-module configuration depending on the expected complexity of the procedure, and the individual modules are freely mobile to join others as needed in different ORs. Surgeons can also choose from a full suite of instruments to arm each module. Ultimately, the fluidity in configuration translates to balancing clinical capability and procedural cost, resulting in improved usability for the surgical team, higher utilization for the hospital, and reduced economic burden on the patient.
Altogether, the differentiated clinical capabilities and economic viability of the Carina system are poised to rapidly accelerate the adoption of robotic MIS in general surgery, gynecology, thoracic surgery, urology and other specialties. These specialties currently see nearly 10 million MIS patients annually in China, with 120,000 laparoscopic surgeons in over 10,000 hospitals.