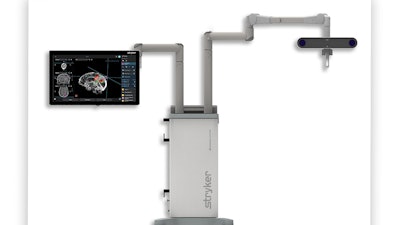 Stryker
Stryker today announced that its Q Guidance System with Cranial Guidance Software received 510(k) clearance from the U.S. Food and Drug Administration. The Q Guidance System is an image-based planning and intraoperative guidance system designed to support cranial surgeries. Recently launched in September 2022, the Q Guidance System for spinal applications is currently available on the market.
The Q Guidance System with Cranial Guidance Software is indicated for any medical condition in which the use of computer-assisted planning and surgery may be appropriate and can be used for intraoperative guidance where a reference to a rigid anatomical structure can be identified. It tracks navigated instruments and displays the position and orientation of the instruments in patient images. The Cranial Guidance Software includes automatic, algorithmic processing and comprehensive guidance data that aim to elevate confidence and surgical ability.
"The FDA clearance of Stryker's Q Guidance System with Cranial Guidance Software is a key milestone, which will help lead the transformation of cranial navigation and surgery," said Robbie Robinson, president of Stryker's Spine division. "Our robust pipeline of iterative launches reinforces our commitment to making industry-leading investments focused on providing advanced navigation products and differentiated technologies that our surgeon customers have come to expect."
The Cranial Guidance Software is powered by Stryker's Q Guidance System and can be used with a range of instruments and accessories for navigated cranial procedures. New for brain biopsies, the software provides a dedicated workflow to support the accurate alignment of the Precision Targeting System with a pre-operatively planned approach. Stryker is also using plug-in EM tracking technology that can be used with both adults and pediatric patients for the placement of shunt catheters, which can be visualized with an EM Stylet.