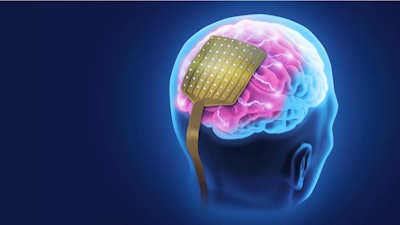 NeuroOne
NeuroOne Medical, a medical technology company focused on improving surgical care options and outcomes for patients suffering from neurological disorders, today announces it has been awarded a patent from the United States Patent and Trademark Office relating to its novel and proprietary electrode technology.
The patent, titled "Improved Neural Depth Probes and Related Systems and Methods," adds to NeuroOne's intellectual property portfolio, and is focused on a layered thin film neural depth electrode. The electrode could have potential applications in a wide variety of neurological procedures for both diagnostic and therapeutic use. Conditions that could potentially benefit from this technology include epilepsy, Parkinson's disease, chronic back pain due to failed back surgeries, and mood- based disorders associated with depression, severe OCD, etc.
In addition to this patent, NeuroOne's patent portfolio includes three licensed patents, eight pending U.S. applications, and several foreign applications covering a wide variety of thin-film electrode technologies, including both neural and spinal cord electrodes having unique properties to optimize the functionality and minimized profile of those electrodes, enabling less invasive surgeries. More specifically, the inventions described in the patent applications include electrodes and related devices with drug delivery capabilities, spinal cord stimulation electrodes, ablation electrodes, and electrodes with temperature sensing features.
Dave Rosa, CEO of NeuroOne, comments, "NeuroOne is committed to protecting our groundbreaking electrode technology with respect to device claims and proprietary manufacturing processes. With a plethora of patent applications both in the U.S. and overseas relating to procedures in epilepsy, Parkinson's disease, chronic back pain and drug/gene delivery, we believe the Company is well positioned to impact a number of key neurological conditions with patent-protected novel electrodes. We look forward to continued success with our patent applications."