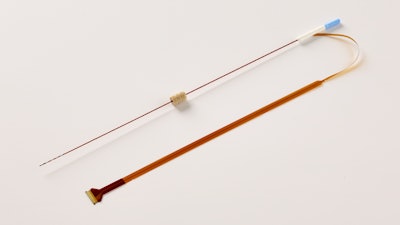 NeuroOne
NeuroOne Medical, a medical technology company focused on improving surgical care options and outcomes for patients suffering from neurological disorders, announced the first clinical case using the Evo sEEG electrode in robotic neurosurgery. Performed by Dr. William Bingaman at Cleveland Clinic, the procedure was the first to utilize NeuroOne's Evo sEEG electrode, exclusively marketed in the U.S. by Zimmer Biomet, with Zimmer Biomet's ROSA One Brain, a robotic platform that assists surgeons in planning and performing complex minimally invasive neurosurgical procedures.
Dave Rosa, CEO of NeuroOne, commented, "This clinical case utilizing our minimally invasive and high-definition electrode technology with ROSA One Brain is a major milestone in NeuroOne's partnership with Zimmer Biomet. Now that Zimmer Biomet has commenced U.S. distribution of our Evo sEEG electrodes, this case study confirms the synergistic use of our product with Zimmer Biomet's robotics platform which was the foundation of our interest to partner with Zimmer Biomet."
The Evo sEEG electrode technology offers stereoelectroencephalography recording, brain stimulation and future development of ablation solutions targeted for patients suffering from multiple neurological conditions. In October 2022, NeuroOne received FDA clearance to market its Evo sEEG electrode technology for temporary (less than 30 days) use with recording, monitoring, and stimulation equipment for the recording, monitoring, and stimulation of electrical signals at the subsurface level of the brain.