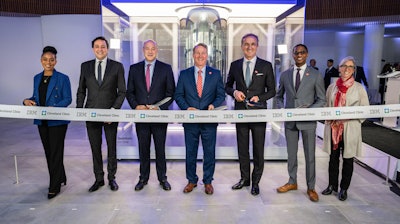 IBM
Cleveland Clinic and IBM officially unveiled the first deployment of an onsite private sector IBM-managed quantum computer in the United States. The IBM Quantum System One installed at Cleveland Clinic will be the first quantum computer in the world to be uniquely dedicated to healthcare research with an aim to help Cleveland Clinic accelerate biomedical discoveries.
The unveiling comes as a key milestone in Cleveland Clinic's and IBM's 10-year Discovery Accelerator partnership, announced in 2021, which is focused on advancing the pace of biomedical research through the use of high-performance computing, artificial intelligence and quantum computing.
Quantum computing is a rapidly emerging technology that harnesses the laws of quantum mechanics to solve problems that today's most powerful supercomputers cannot practically solve. The ability to tap into these new computational spaces could help researchers identify new medicines and treatments more quickly.
In addition to quantum computing, the Cleveland Clinic-IBM Discovery Accelerator draws upon a variety of IBM's latest advancements in computing technologies, including high performance computing via the hybrid cloud and artificial intelligence. Researchers from both organizations are collaborating closely on a robust portfolio of projects with these advanced technologies to generate and analyze massive amounts of data to enhance research.
The Cleveland Clinic-IBM Discovery Accelerator has generated multiple projects that leverage the latest in quantum computing, AI and hybrid cloud to help expedite discoveries in biomedical research. These include:
Development of quantum computing pipelines to screen and optimize drugs targeted to specific proteins;
Improvement of a quantum-enhanced prediction model for cardiovascular risk following non-cardiac surgery; and
Application of artificial intelligence to search genome sequencing findings and large drug-target databases to find effective, existing drugs that could help patients with Alzheimer's and other diseases.