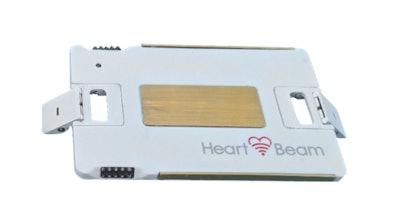 HeartBeam
HeartBeam, a cardiac technology company that has developed s 3D vector electrocardiogram (VECG) platform intended for patient use at home, today announced it has submitted a 510(k) application to the U.S. Food and Drug Administration (FDA) for its HeartBeam AIMIGo System.
HeartBeam has developed the HeartBeam AIMIGo System, a personal, portable and easy-to-use VECG solution to assist patients and their clinicians in assessing cardiac symptoms. HeartBeam's breakthrough solution employs a reusable, credit card-sized, VECG recording device and cloud-based software to deliver critical data to clinicians in real-time outside of a medical setting. More than 127 million people in the U.S. have cardiovascular disease, including more than 20 million with coronary artery disease.
"The 510(k) submission of our HeartBeam AIMIGo VECG device is an important milestone for the company," said Branislav Vajdic, Ph.D., HeartBeam CEO and founder. "We believe that our patented VECG technology holds tremendous promise to provide timely and actionable information to patients and their clinicians. This submission is the result of years of hard work to develop and refine the technology. I am extremely proud of our team and all their efforts to get the product to this stage. We look forward to working with the FDA as they review this application.
"This year is pivotal for HeartBeam. In addition to this FDA submission, we are undertaking clinical studies on the system's ability to synthesize a 12-lead ECG from our VECG signal, providing clinicians with the output that they expect in evaluating cardiac patients. Our recently announced $26.5 million capital raise will allow us to accelerate our clinical studies and activities related to our FDA submissions," added Vajdic.