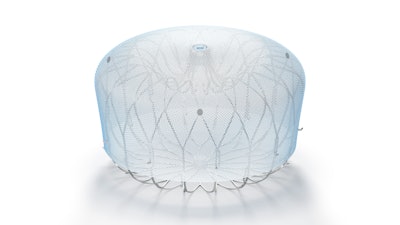 Boston Scientific
Boston Scientific announced it has received FDA approval for the latest-generation WATCHMAN FLX Pro Left Atrial Appendage Closure (LAAC) Device. Designed to further advance the procedural performance and safety of the WATCHMAN technology, which is indicated to reduce stroke risk in patients with non-valvular atrial fibrillation (NVAF) who need an alternative to oral anticoagulation therapy, the device now features a polymer coating, visualization markers and a broader size matrix to treat a wider range of patients.
The WATCHMAN FLX Pro device is built upon the proven safety and procedural performance of the WATCHMAN FLX LAAC device, which was approved in July 2020 and has been used in nearly 190,000 of the more than 300,000 WATCHMAN procedures successfully completed to date globally. The latest WATCHMAN FLX Pro device is enhanced with a coating designed to reduce device-related thrombus and enable faster, controlled healing and endothelization of the device surface. In addition, newly added visualization markers are intended to enhance device placement for optimal sealing around the LAA. This device is also available in a new 40mm size option, which will enable physicians to treat a broader range of anatomies with the WATCHMAN technology.
Preclinical research for the new technology has shown positive results for faster, more controlled healing around the device surface. Data across several of these preclinical studies demonstrated that the polymer coating provided an 86% reduction in inflammation three days following the procedure, a 70% reduction of thrombus at 14 days and a 50% increase in endothelial tissue coverage 45 days post procedure.
The WATCHMAN FLX Pro device maintains key characteristics of the WATCHMAN FLX device, including the fully rounded design that enables physicians to safely enter, and maneuver within, the left atrial appendage. It can also be fully recaptured, repositioned and redeployed for precise placement, and the frame design allows for optimal device engagement with the tissue for long-term stability and a faster, more complete seal.
The WATCHMAN FLX Pro device is currently being studied in the WATCHMAN FLX Pro CT study, a single-center premarket study using multiple imaging modalities to assess post-procedural device tissue coverage and the relationship, if any, to clinical outcomes. It will also be further evaluated in the post-market HEAL-LAA study, which will commence over the coming weeks and follow outcomes from approximately 1,000 patients with NVAF implanted with the technology at 60 sites in the U.S.