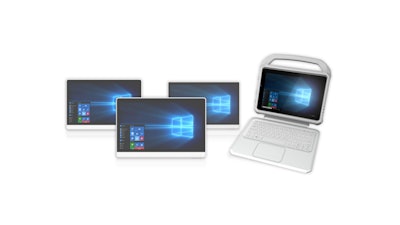 DT Research
DT Research, the leading designer and manufacturer of purpose-built computing solutions for vertical markets, today announced a new 55x series of all-in-one (AIO) medical graphics stations designed to enable augmented reality (AR) navigation, robotic surgeries and 3D training simulations in medical, dental, veterinary and similar environments. The 552, 554, and 557 medical graphics stations are equipped with dedicated NVidia graphics cards, high resolution TFT-LCD touch screens and powerful Intel Core processors to deliver high performance during demanding computing tasks and graphics-intensive applications.
The 552, 554, and 557 medical graphics stations will be on display in the DT Research booth #3204 at the HIMSS23 Global Health Conference & Exhibition in Chicago's McCormick Place Convention Center from April 17-21, 2023. At the conference, DT Research will also showcase a new 302MD medical tablet, 581T medical-cart computer and 502T all-in-one computer. All of these computing solutions are purpose-built for healthcare with bacteria-resistant antimicrobial enclosures and hot-swappable batteries for limitless mobility and continuous operation.
"Our new medical graphics stations can advance the way medical professionals approach dental modeling, robotic surgeries and training simulations," said Daw Tsai, president of DT Research. "With this new line of medical graphics stations, we can enhance the precision, accuracy, and safety of complex medical procedures, while also providing a more immersive and effective learning experience for medical and other professions that demand high precision. We are proud to be at the forefront of this medical purpose-built technology and look forward to its positive impact on the healthcare industry."
"DT Research's healthcare computing solutions have proven to be remarkably reliable with almost non-existent failure rates and minimal repair needs," Graham Stewart, Commercial & Finance Director, Hospital Services Limited. "The durability and reliability of DT Research healthcare computing solutions not only avoid downtime and equipment failure during critical moments, but also help HSI customers save money in the long run. With less need for repairs or replacements, our customers can allocate their budget towards other critical areas in their healthcare operations."