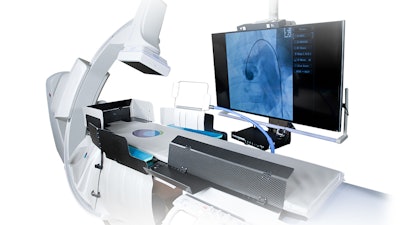 Egg Medical
Egg Medical, a medical device company commercializing technologies to reduce scatter radiation exposure during interventional angiographic procedures, today announced that it has achieved CE Mark for the EggNest XR radiation protection system. The EggNest protects the entire interventional team in hospital x-ray labs (cardiac catheterization, electrophysiology, interventional radiology, and operating rooms) from the harm of long-term exposure to scatter radiation.
"Occupational exposure of hospital staff to x-rays during medical procedures is an important workplace risk. Almost everyone in the interventional cardiology and radiology profession knows someone with a radiation related illness. There have been minimal improvements in x-ray shielding over the past 30 years, leaving the medical teams working in these environments exposed to scatter radiation every day," said Robert F. Wilson MD, Egg Medical CEO. "The EggNest platform addresses the problem of hospital personnel radiation exposure for everyone working in these environments by reducing scatter radiation by an average of 91 percent."
With the CE Mark certification, Egg Medical will continue expansion into all markets recognizing the CE Mark.
"At Egg Medical, our belief is that everyone deserves protection, meaning the entire interventional team," said Wilson. "With CE mark approval of the EggNest platform, we are bringing this protection to more interventional teams worldwide."