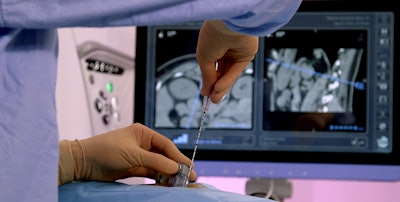 GE Healthcare
GE HealthCare announced it has entered into an agreement to acquire IMACTIS, a company specializing in the field of computed tomography (CT) interventional guidance across an array of care areas. IMACTIS is a France-based company that was founded in 2009 by Stephane Lavallee and Lionel Carrat, who created CT-Navigation, an ergonomic universal solution that provides stereotactic needle guidance, enabling intuitive pre-planning and continuous control throughout a wide range of procedures, from diagnosis to treatment.
Interventional CT capabilities are considered a top purchase driver in the performance and premium CT segments[1], making it a high opportunity growth driver in the 2022-2026 period. The global Interventional Radiology market includes CT interventional guidance, and the IMACTIS acquisition provides GE HealthCare with access to this growing opportunity. While this innovation currently focuses on CT, GE HealthCare plans to expand the technology to its image guided therapy (IGT) business to drive further growth. Additionally, interventional guidance is increasing due to the growing worldwide need across an array of care areas including oncology, cardiology, urology, nephrology, and gastroenterology.
The IMACTIS CT-Navigation, which includes an integrated workstation, guidance software, and disposable procedure kit, is currently approved under the European Union's Medical Devices Regulation (MDR) and has FDA clearance for use within the U.S. GE HealthCare is a leader in CT with a large install base and global scale, which provides significant opportunities for the IMACTIS CT-Navigation™ system at existing client sites.
The consummation of the transaction is subject to customary closing conditions, including review by the relevant governmental authorities in France. Financial details of the transaction have not been disclosed publicly. GE HealthCare intends to fund this transaction with cash on hand.