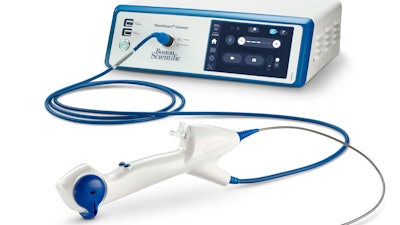 Boston Scientific
Boston Scientific today announced U.S. Food and Drug Administration (FDA) 510(k) clearance of the LithoVue Elite Single-Use Digital Flexible Ureteroscope System, the first ureteroscope system with the ability to monitor intrarenal pressure in real-time during ureteroscopy procedures.
Ureteroscopy is a common procedure performed by urologists to diagnose and treat a variety of problems in the urinary tract, most commonly kidney stones. Research shows that about one in 10 people will develop a kidney stone at some point in their lives. During ureteroscopies, elevated intrarenal pressure (IRP) can occur in response to fluid irrigation which is used to maintain a clear visual field. High IRP may contribute to a range of post-operative complications including systemic inflammatory response syndrome (SIRS), sepsis and renal damage. The built-in pressure sensor on the LithoVue Elite ureteroscope tip is designed to allow urologists to make informed, pressure-related clinical decisions.
The LithoVue Elite System, comprised of the single-use digital flexible ureteroscope and the StoneSmart Connect Console, builds on many of the features of the original LithoVue System with significant next-generation innovations. In addition to intrarenal pressure monitoring, device enhancements include:
upgraded image quality: high-resolution digital chip and advanced imaging software designed to provide faster, sharper image quality and greater depth of field compared to the original LithoVue System;
updated control features: two programmable buttons on the lightweight, single-use ureteroscope handle enable direct control of video and image capture without the need to coordinate with staff; and
streamlined integration: the StoneSmart Connect Console, LithoVue Elite's compact processing unit, is designed to work with existing operating room visualization towers and endoscopic monitors to reduce clutter and capital footprint.
The LithoVue Elite System is the latest device in the Boston Scientific single-use imaging portfolio, developed with physician feedback to advance patient care and eliminate infection risk associated with ineffective reprocessing of reusable scopes. It is also the first device built on the company's next-generation StoneSmart technology platform, intended to support potential interoperability with future Boston Scientific devices.
Limited market release of the device in the U.S. will begin in the coming weeks.