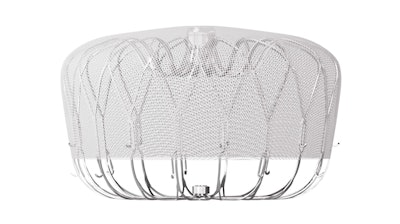 Boston Scientific
Boston Scientific has received FDA approval to expand the instructions for use labeling for the current-generation WATCHMAN FLX Left Atrial Appendage Closure (LAAC) Device to include a 45-day dual anti-platelet therapy (DAPT) option as an alternative to 45-day oral anticoagulation (OAC) plus aspirin for post-procedural treatment of patients with non-valvular atrial fibrillation (NVAF).
According to Dr. Ian Meredith, global chief medical officer at Boston Scientific, the revised labeling gives physicians more flexibility to exercise clinical judgment based on individual patient characteristics to determine the most appropriate post-procedural antithrombotic medication regimen.
Clinical evidence submitted to the FDA to support the labeling update included analyses spanning approximately 8,300 patients from the Left Atrial Appendage Occlusion Registry (LAAO Registry) within the American College of Cardiology Foundation's (ACCF) National Cardiovascular Data Registry (NCDR). The data was submitted to the FDA to support the safety and efficacy of DAPT as a post-procedural antithrombotic regimen in patients with NVAF who may have a reason for seeking an alternative to OAC.
The labeling in Europe has included the choice of either OAC or a DAPT post-procedural drug regimen for WATCHMAN technology since 2017.
Recently announced real-world data for the WATCHMAN FLX device include the results of an analysis of more than 17,000 patients from the NCDR-LAAO Registry that demonstrated no significant difference in rates of major adverse events at 45 days post implant, whether patients were discharged from the hospital on DAPT, a direct OAC and aspirin, or warfarin and aspirin.
Additionally, recently presented data from the SURPASS analysis of more than 16,000 patients from the NCDR-LAAO Registry demonstrated low rates of adverse events and peri-device leak through 45 days post implant, and, in the investigator-led SEAL-FLX study – the first study exclusively comparing the WATCHMAN FLX device vs. the Amplatzer Amulet device – there was a significantly higher rate of complete occlusion of the left atrial appendage at eight weeks with the WATCHMAN FLX technology compared to the Amulet device (72.6% vs. 30.5%), as evaluated by contrast enhanced cardiac computed tomography (CT) imaging.
The single-center retrospective study of 300 patients also demonstrated that the median peri-device leak area (residual flow around the device from the LAA) was significantly smaller with the WATCHMAN FLX device.
Ongoing studies with the WATCHMAN FLX device include the CHAMPION-AF and OPTION clinical trials to evaluate use of the device for broader patient populations with NVAF.
For more information, visit www.watchman.com/implanter.