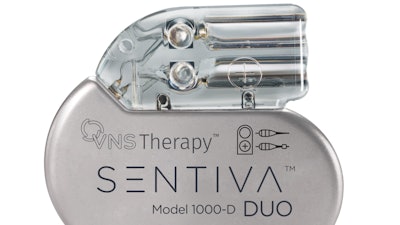 LivaNova
LivaNova today launched SenTiva DUO, an implantable pulse generator (IPG) with a dual-pin header to provide VNS Therapy for the treatment of drug-resistant epilepsy.
The dual-pin header distinguishes this latest IPG from the original SenTiva, which is only available in a single-pin format. Now, with SenTiva DUO, patients considered "the pioneers of VNS Therapy" who were originally implanted with a dual-pin lead and IPG can receive the benefits of the latest VNS Therapy technology.
"This new offering enables those VNS Therapy patients with legacy dual-pin systems to have the option to replace their device with SenTiva DUO, delivering the most advanced VNS Therapy treatment without the need for lead revision," said Dr. James Wheless, Professor and Chief, Pediatric Neurology, Le Bonheur Children's Hospital in Memphis, Tennessee. "Having access to SenTiva DUO offers patients therapy that can be customized and delivered automatically, providing optimal seizure control and enabling maximum adherence to treatment."
SenTiva DUO offers the same therapeutic benefits as SenTiva. Both provide stimulation in response to rapid heart rate increases, which may be associated with seizures; allow Day-Night Programming; offer Scheduled Programming; and log low heart rate and prone position events.
"We're proud to offer SenTiva DUO to serve patients who were early adopters of VNS Therapy many years ago," said Damien McDonald, Chief Executive Officer of LivaNova. "Over time, all VNS Therapy patients must replace their generators as batteries become depleted. Now, our 'pioneer patients' will be able to take advantage of the latest technology with SenTiva DUO and experience the full benefits of VNS Therapy, without the need to replace their dual-pin lead."
SenTiva DUO received 510(k) clearance from the U.S. Food and Drug Administration and is currently available in the United States.