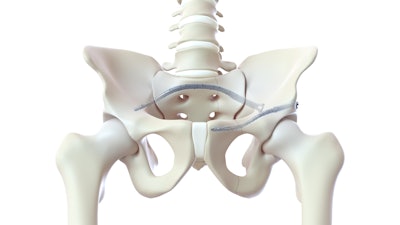 CurvaFix
CurvaFix, a developer of medical devices to repair fractures in curved bones, today announced the launch of its smaller-diameter, 7.5mm CurvaFix IM Implant, designed to simplify surgery and provide strong, stable fixation in small-boned patients. The company will showcase the new 7.5mm intramedullary device, of which over two dozen have already been implanted in patients, at the American Academy of Orthopedic Surgeons (AAOS) 2023 Annual Meeting in Las Vegas, March 7-11 (booth 1223). The company will also highlight the 9.5mm CurvaFix Implant, launched in late 2021, and provide updates from recent U.S. cases.
To date, over 175 patients have been treated with the CurvaFix procedure, including over 100 patients who are either geriatric and/or suffer from Fragility Fractures of the Pelvis (FFP). Usage of over 240 CurvaFix Implants, by 35 U.S. surgeons, has illuminated the advantages of a longer, wider, curved implant, which may immediately reduce pain and enable early mobility in a broad range of patients through a minimally invasive procedure. The patient population demonstrates surgical utility and potential benefits in a variety of pelvic injuries and conditions, including polytrauma patients with multiple complex injuries, FFP patients with weak bone, patients with dysmorphic bony anatomy, oncology patients with pelvic fractures, revision surgery for failed pelvic fracture fixation, and patients with impeding total hip or lumbosacral spinal hardware.
In 2019, there were 186,000 hospitalizations for pelvic fractures in the U.S., including 108,000 geriatric fractures. Due to an aging population, the incidence is growing at 9% per year, bringing the estimated number of geriatric pelvic fractures to over 150,000 in 2023, 80% of whom are female.
FFPs can dramatically change the quality of life for geriatric patients and their families due to a loss of patient autonomy, significant disability, and even death.
Despite recommendations that surgical treatment should be considered for most FFP patients, only 10% receive surgery today. For non-operative patients, conservative treatment generally consists of bed confinement, pain control, and mobility assistance if weight-bearing can be tolerated. Often, conservative treatment leads to lengthy hospitalizations, high nursing home admittance, and a high one-year mortality rate.
In contrast, decades of innovation in hip fracture repair have enabled strong, stable surgical fracture fixation to become the standard of care. Ninety-five percent of hip fracture patients receive surgery today, which can greatly reduce pain and often allows geriatric hip fracture patients to mobilize soon after surgery.