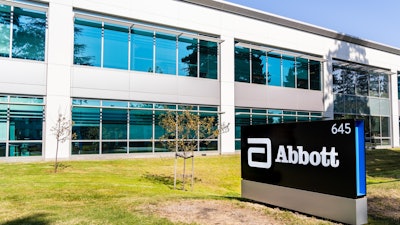 Abbott
The FDA has identified this as a Class I recall, the most serious type of recall. Use of these devices may cause serious injuries or death.
Recalled Product
Product Names and Model Numbers:
Distribution Dates: November 21, 2015, to June 29, 2023
Devices Recalled in the U.S.: 155,028
Date Initiated by Firm: July 18, 2023
Device Use
The Abbott Proclaim neurostimulation systems delivers low-intensity electrical impulses to nerve structures.
The Proclaim XR and Proclaim Plus implantable pulse generators (IPGs) are used for Spinal Cord Stimulation (SCS). The Proclaim DRG IPG is used for Dorsal Root Ganglion (DRG) stimulation. The Infinity IPGs are used for Deep Brain Stimulation (DBS).
The device has the option to disable delivery of therapy when a patient receives magnetic resonance imaging (MRI). The Patient Controller (PC) device, an iPhone or iPod installed with the PC application (app), connects to the patient's IPG wirelessly via Bluetooth. The PC device is used to place a patient's IPG in MRI mode, which disables the delivery of therapy. When the MRI procedure is complete, the PC device is then used to deactivate the IPG's MRI mode and allow therapy to resume.
Reason for Recall
Abbott is recalling its Proclaim and Infinity IPGs due to complaints from patients who are unable to exit MRI mode. The Patient Controller (iPhone/iPod) may lose the ability to connect or communicate with its IPG while in MRI mode. Example situations where this has occurred include when the PC device's iOS operating system was updated, the PC app was updated or deleted, and when the IPG was deleted from the list of available Bluetooth devices on the PC device. A Clinician Programmer is required to be paired to the IPG for initial programming. When available, a Clinician Programmer previously paired with the patient's IPG can be used to exit MRI mode. If there is no previously paired Clinician Programmer available, or if the Clinician Programmer lost its Bluetooth connection to the IPG, then there is no alternative option to exit MRI mode.
The use of the affected IPGs may require surgery to remove the device and replace it with a new device.
There have been 186 reported incidents and 73 reported injuries. There have been no reports of death.