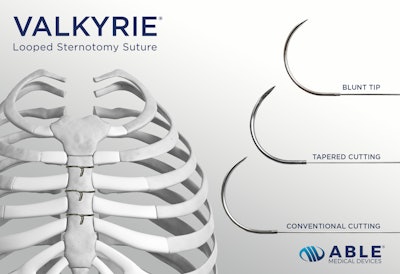 Able Medical Devices
Able Medical Devices today announced the launch of Valkyrie Looped Sternotomy Sutures.
The stainless-steel looped wire sutures are used to close a patient's chest after open heart surgery. When compared to traditional wire sutures, the Valkyrie Looped Suture doubles the surface area of single wires and provides a more robust sternal closure. Valkyrie Looped Sternotomy Sutures are fitted with three different needle configurations and available in two different sizes (48mm & 55mm).
The Looped Sutures complement Able Medical's Valkyrie Thoracic Fixation System and combine for a comprehensive closure portfolio.
The Valkyrie Looped Sternotomy Suture can be used in conjunction with the Valkyrie Thoracic Fixation System. Valkyrie is intended for use in the stabilization and fixation of fractures of the chest wall, including sternal fixation following sternotomy, as well as sternal reconstructive surgical procedures for patients with normal and/or poor bone.