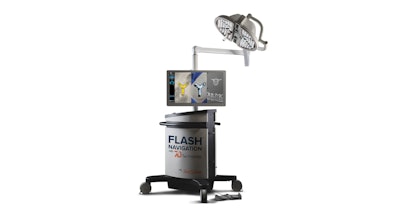 Orthofix
Orthofix Medical, a global spine and orthopedics company, today announced the full commercial launch and successful completion of the first cases in the U.S. with the 7D FLASH Navigation System Percutaneous Module 2.0. The Percutaneous Module 2.0 provides new planning features and increased functionality for the 7D FLASH Navigation System.
"The 7D FLASH Navigation System provides a truly unique offering for both open and MIS procedures enabling us to perform navigated spinal fusion procedures without compromising safety, speed and efficiency," said Dr. Michael Hisey, an orthopedic surgeon at Texas Back Institute in Dallas, Texas. "The planning features of the Percutaneous Module 2.0 help optimize my navigation workflow and allow me to minimize surgical incisions during MIS procedures."
The 7D FLASH Navigation System uses visible light to create a three-dimensional image for surgical navigation in seconds, enabling faster and more efficient spinal procedures. The only image-guidance system that utilizes novel and proprietary camera-based technology, coupled with machine-vision algorithms, the 7D FLASH Navigation System eliminates many of the long-standing frustrations with other surgical navigation platforms. The speed, accuracy, and efficiency of machine-vision technology is intended to provide significant economic value and lower radiation exposure for staff and patients during open procedures.
"We are excited to complete our first cases using the Percutaneous Module 2.0," said Dr. Beau Standish, President of Global Enabling Technologies at Orthofix. "This launch expands the clinical functionality and utility of the 7D FLASH Navigation System by providing surgeons with a fully integrated procedural solution for MIS, including implant planning and an expanded offering of navigated tools. This new application addresses the important MIS spine navigation market and further positions the 7D FLASH Navigation System to be the navigation choice for a wide range of institutions from teaching hospitals to ambulatory surgery centers."