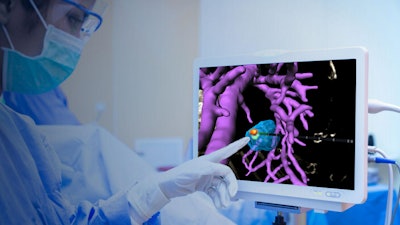 Techsomed
Techsomed announced today that it has received 510(k) clearance from the FDA for its VisAble.IO software intended to assist physicians in planning liver ablation procedures, and confirming ablation zones, with the goal of increasing treatment precision.
Ablation Therapy is a preferred minimally invasive treatment that uses extremely high or low temperatures to destroy abnormal tissue. However, insufficient image guidance precision and treatment control, lead to high risk of recurrence and complications, creating significant barriers to widespread adoption and limiting patients' eligibility.
VisAble.IO is the first product to be released as part of Techsomed's full BioTrace solution, an end-to-end software solution for full visualization & control for Image Guided Ablation Therapy. By utilizing AI-based technology, BioTrace leverages standard imaging—such as ultrasound (US) along with computed tomography (CT) or magnetic resonance imaging (MRI) to provide visualization of the full extent of the ablation zone in real-time, together with smart, personalized treatment planning and assessment tools, allowing physicians to provide their patients with optimized care.
VisAble.IO employs advanced computation and image registration to assist physicians in crucial steps of planning and assessing the ablation coverage of liver tumor. Its key features include 3D visualization of the ablation target within a patient-specific anatomical view, overlay and position of virtual instruments and estimated ablation regions onto medical images and finally, a unique interactive 3D view of ablation margins and missed volumes to help users assess ablation target coverage immediately post procedure.
The full BioTrace platform also includes the BioTrace.IO Lite software system, which is currently under review by the FDA through the De-Novo pathway, following the successful completion of a multi-center pivotal trial conducted in the USA. With its algorithm-powered technology, BioTrace.IO Lite will be the first software device to provide visualization of the ablated area based on standard real-time ultrasound imaging.