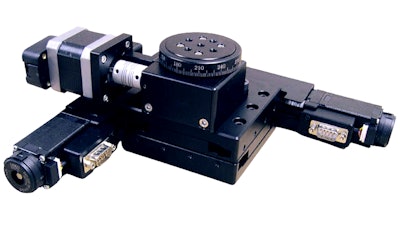 Optimal Engineering Systems, Inc.
Optimal Engineering Systems, Inc. (OES) (Van Nuys, CA) announced two new XY-Theta Alignment Stages.
The XYR-15-60-01 and the XYR-15-60-04 Alignment Stages feature:
15 mm (0.58 in.) of travel in both the X and Y axes

360 degrees of continuous rotation on the rotary axis

Two Phase Stepper Motors featuring 0.25 micron resolution (20 Micro-steps per Step Motor Driver in use)

The XYR-15-60-01 - knobs for manual adjustment

XYR-15-60-04 (pictured) - 500 Cycles-per-Revolution Quadrature Encoders for position verification

X and Y axes have 1 mm-per turn precision lead screws, V-groove crossed roller bearings and limit switches at both ends



The Theta (rotary) stage is 60 mm (2.362 in.) in diameter with four threaded holes for easy integration of tooling and fixtures, a 90:1 worm gear and precision bearing for smooth travel and home switch.
The compact XYR Alignment stage has a total footprint of 238.0 mm by 238.0 mm (9.370 in. by 9.370 in.) and including the Theta stage is just 87 mm (3.425 in.) high.
The typical applications include:
Alignment

Testing

Inspection

Scanning

Laser drilling

Machining

Semiconductor handling

Sampling

Assembly
The XYR Alignment Stages can be ordered as complete plug-and-play systems with compatible Motion Controllers with PC interface, joystick, and keypad from OES.