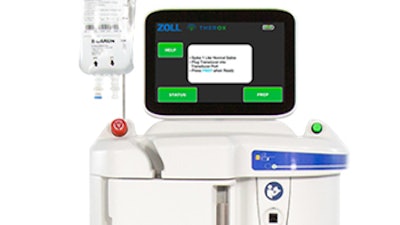 ZOLL
ZOLL, an Asahi Kasei company that manufactures medical devices and related software solutions, announced today that its TherOx SuperSaturated Oxygen (SSO2) Therapy has been awarded a group purchasing agreement for Diagnostic and Interventional Cardiology Catheters (DIC) with Premier, Inc.
The agreement allows Premier hospital members, at their discretion, to take advantage of special pricing and pre-negotiated terms to access SSO2 Therapy for their ST-segment elevation (STEMI) heart attack patients.
SSO2 therapy is used immediately after stenting is performed for left-anterior descending (LAD) STEMI heart attacks – the most severe type – and within 6 hours of symptom onset. SSO2 delivers high levels of dissolved oxygen directly to the heart to recover damaged tissue. Data have shown that SSO2 is associated with lower rates of heart failure and death within one year.1
"We are seeing increasing numbers of cardiologists realize the benefits of SSO2 therapy to further reduce infarct size and improve outcomes for their heart attack patients," said Christopher Barnabas, President of ZOLL Circulation. "Through this agreement, we are making this life-saving therapy more accessible via Premier's vast network, with the shared goal of improving cardiovascular care."
Premier is a healthcare improvement company, uniting an alliance of approximately 4,400 U.S. hospitals and 250,000 other providers to transform healthcare.