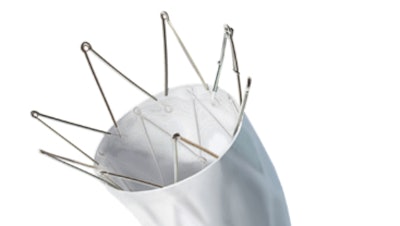 Endologix
Endologix, a privately held global medical device company, today announced that it has received U.S. Food and Drug Administration (FDA) approval for a pre-market approval (PMA) supplement relating to the AFX2 System.
Endologix received approval to include an updated warning and the most contemporary clinical information in the labeling for the AFX2 System. Clinical data added to the Instructions For Use (IFU) includes: final results from the five-year LEOPARD randomized controlled trial, and results from the recently published, independently performed, VQI-VISION analysis on AAA endografts (Use of linked registry claims data for long term surveillance of devices after endovascular abdominal aortic aneurysm repair: observational surveillance study, Goodney, Philip, et al. British Medical Journal, 2022;397:e071452).
In both reported studies, out to 3 years, the rates shown for rupture and re-intervention are comparable between the AFX/AFX2 device cohort and endovascular aneurysm repair (EVAR) comparator devices. Additionally, results from the LEOPARD study demonstrated no significant difference in aneurysm-related mortality, all-cause mortality, rupture, secondary interventions, and Type I and Type III endoleaks between the AFX/ AFX2 device cohort and the EVAR comparator devices.