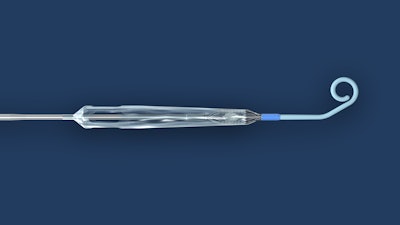 Abiomed
Abiomed announced the FDA has approved the version of Impella ECP that will be used in the Impella ECP Pivotal Trial, and the first two patients have been enrolled in the trial. Amir Kaki, MD, director of mechanical circulatory support at Ascension St. John Hospital in Detroit, led the procedures. This single-arm, prospective, multi-center trial will evaluate the rate of major adverse cardiovascular and cerebrovascular events (MACCE) in adult patients who receive Impella ECP support during an elective or urgent high-risk percutaneous coronary intervention (PCI).
Impella ECP is the world's smallest heart pump and the only heart pump compatible with small bore access and closure techniques. It is 9 Fr in diameter upon insertion and removal from the body. Once in the body, it expands and supports the heart's pumping function, providing peak flows up to 5 L/min.
Both patients enrolled in the trial received Impella ECP support during challenging left main coronary bifurcation stent procedures involving heavily calcified lesions. After Impella ECP was removed, the first patient was closed with an 8 Fr closure device.
"The research and clinical teams at Ascension St. John are delighted about enrolling the first patients in the Impella ECP FDA Pivotal Trial," said Dr. Kaki, who is national principal investigator of this study. "Impella ECP advances the opportunity for physicians to provide critical hemodynamic support during high-risk PCI procedures by delivering similar or higher flow compared to other options through a smaller vascular sheath for access. This technology has the potential to improve patient safety and cath lab throughput because of the smaller arteriotomy required for pump placement."
"Impella ECP demonstrates Abiomed's leadership in technology and innovation as we have broken the small-bore barrier through the development of the world's smallest heart pump," said Mike Minogue, Abiomed's Chairman, President and Chief Executive Officer. "At Abiomed, we remain committed to developing smaller, smarter and more connected technologies that will improve outcomes for patients with heart disease. I applaud the teams within the medical community and at Abiomed who helped us achieve this milestone."