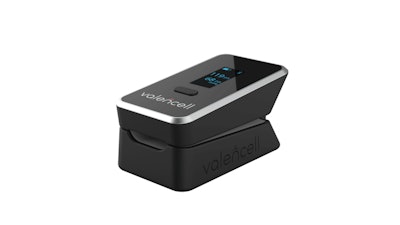 Valencell
Valencell announced plans to launch its own branded product line in the digital health sector as it concentrates efforts to bring solutions to market to manage chronic diseases. The company's first product candidate being showcased at CES is focused on helping people monitor and manage hypertension by combining an intuitive app with an innovative over-the-counter device to accurately measure blood pressure (BP) from the finger without a cuff or calibration.
Pending FDA Clearance, the launch of the Valencell fingertip device will further the company's vision of bringing life-changing digital health solutions to consumers and is a strategic evolution for the company. Having developed solutions for some of the world's leading wearable companies, Valencell is now driven to bring its own portfolio of digital therapeutics to market. Powered by its patented biometric sensor technology, over 150 patents, proprietary AI models, and analytics that have been clinically validated using thousands of datasets over many years, it begins with a focus on hypertension.
The device is being designed to measure blood pressure in less than a minute using a small probe on the middle finger without the need for bulky or painful cuffs. Photoplethysmography (PPG) sensors within the device use reflected light to measure blood flow patterns. Proprietary AI algorithms, developed from PPG datasets comprising more than 7,000 patients, will be used to process this information with physical characteristics (age, weight, gender, height) to calculate a blood pressure measurement. Diastolic and systolic results are then displayed on the device's built-in screen and transmitted via Bluetooth to the app.
Unlike other technologies, the Valencell BP technology will not need to be calibrated to a BP cuff, a capability that has so far eluded the industry. Valencell's solution is expected to be the world's first cuffless, calibration-free blood pressure monitor in a fingertip form factor, with the company targeting FDA Clearance in late 2023. Altogether, this has the potential to enable the world's first over-the-counter cuffless BP monitoring solution.
Although the device has been designed as a stand-alone blood pressure monitor, it has the potential to become a powerful tool to help manage hypertension when paired with its accompanying app. The easy-to-use mobile app has been designed to track and store readings and allow users to set reminders to take their blood pressure. Users will also have the ability to view trends over time, track the frequency of their measurements, and download and share data.
Valencell will soon expand the app's capabilities to enable seamless hypertension management. After providing users with a baseline of their current blood pressure profile, the app will help coach users, through targeted diet and exercise plans, towards improved cardiovascular health, followed by ongoing health maintenance. A further upgrade will enable integration within digital healthcare platforms used by healthcare providers to improve physician-directed care.
While designed for individual use, the Valencell solution is expected to be CPT Eligible, meaning health professionals and practices using it for Chronic Care Management and/or Remote Patient Monitoring will qualify for reimbursement.
It is expected to retail at $99.