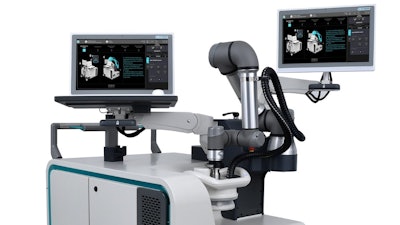 Cardiawave
Cardiawave SA, a medical device manufacturer that has developed Valvosoft, a non-invasive medical device to treat aortic stenosis, the most prevalent heart valve disease in adults, announces the issuance of 3 new patents in the United States.
These patents protect Valvosoft's ultrasound imaging and therapy device and its medical applications and strengthen Cardiawave's U.S. patent portfolio for its innovative non-invasive treatment of heart valve diseases and other cardiovascular applications.
The first U.S. Patent protects Cardiawave's ultrasound imaging and therapy device, and more specifically the system that allows an optimal imaging for safety and performance purposes by keeping the ultrasound imaging probe stationary and in direct with the patient's chest while the ultrasound therapeutical transducer treats different target zones.
The second U.S. Patent protects the technology and the means to detect and monitor with ultrasound imaging the cavitation bubbles which create the therapeutic effect generated by the emission of focused ultrasound.
The third U.S. Patent protects the entire apparatus for treating deep vein thrombosis with focused ultrasounds.
Cardiawave intends to bring its medical device to the American market to treat Aortic Stenosis which remains an immense unmet medical need in spite of the development of TAVR. A large number of patients diagnosed with severe Aortic Stenosis in their 80's are not treated in the USA: about 78% aged 70-79 and 84% aged 80-89 which represent approximately 200,000 patients in their 80's untreated (2022 TCT presentation, 2021 figures). Patients affected with severe symptomatic AS who do not undergo treatment have limited lifespans and cost Medicare as much as $1.3 billion each year due to rehospitalization, prolonged stays, admissions to skilled nursing facilities, and use of hospice care (Clark et al. 2012).