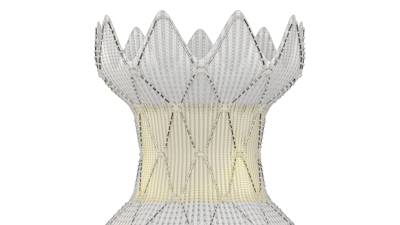 Medtronic
Medtronic announced the relaunch of its Harmony Transcatheter Pulmonary Valve (TPV) System, a minimally invasive alternative to open-heart surgery for congenital heart disease patients with native or surgically repaired right ventricular outflow tract (RVOT).
Harmony TPV was designed to treat patients with RVOT anomalies who develop severe pulmonary valve regurgitation, a condition where blood leaks back into the right lower chamber of the heart after being pumped into the lungs. The Harmony TPV provides these patients with a minimally invasive alternative.
"For congenital heart disease patients with severe pulmonary valve regurgitation, utilizing a valve that works with their anatomy is key to preventing risks such as right-sided heart failure, and optimizing outcomes while minimizing the disruption to their lives," said Matthew J. Gillespie, M.D., Director of Interventional Cardiology and Co-Director of the Valve Center at Children's Hospital of Philadelphia. "I am pleased to be able to once again offer Harmony TPV as an option to patients who require pulmonary valve replacement.
The Harmony TPV System received U.S. FDA approval in 2021 based on the Harmony TPV clinical study that demonstrated safety and effectiveness up to 6 months with no significant reinterventions.
Medtronic initiated a voluntary recall of the Harmony Delivery Catheter System (DCS) in March 2022 due to six reported cases of the bond holding the capsule at the end of the delivery catheter breaking. Medtronic worked collaboratively with the FDA to remediate the issue and earn FDA approval to return the device to market.
"The relaunch of Harmony TPV underscores our continued commitment to advancing solutions for all people who experience heart disease, and we are proud to be driving innovation forward by offering the first non-surgical solution designed for congenital heart disease patients with severe pulmonary valve regurgitation," said Nina Goodheart, SVP and President of the Structural Heart & Aortic business at Medtronic."
The Harmony TPV device is now commercially available for use in the United States and has received regulatory approval in Japan.