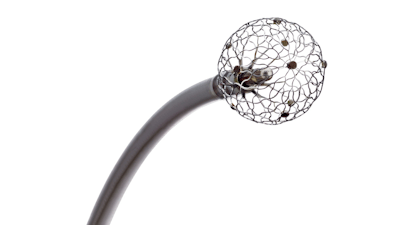 Medtronic
Medtronic has received CE (Conformité Européenne) Mark for the Affera Mapping and Ablation System, which includes the Sphere-9 Catheter and the Affera Prism-1 Mapping Software. Together, the full system creates a new paradigm in electrophysiology through the unique integration of the Sphere-9 pulsed field ablation (PFA), radiofrequency (RF), and high density (HD) mapping catheter, which maps and ablates atrial arrhythmias (fast, abnormal heart rhythms) and provides real-time feedback through its intuitive mapping and navigation software.
The Sphere-9 Catheter, coupled with the integrated mapping and navigation system, quickly generates sophisticated electro-anatomical maps allowing the physician to deliver wide-area focal ablation lesions of choice between RF or PFA, based on the patient and procedure needs. Given its size, the all-in-one catheter's nitinol 9mm ablation tip has the potential to require fewer focal ablation lesion applications that may result in lower procedure times than standard irrigated ablation catheters7. The intuitive mapping software enables an optimized user experience by delivering streamlined insights and feedback to support procedure performance.
Supported by results from clinical studies assessing the safety and performance of the Sphere-9 Catheter and Mapping System, CE Mark approval comes on the heels of a December 2022 announcement that enrollment was completed in the Affera SPHERE Per-AF Clinical Trial, a randomized, controlled U.S. Food and Drug Administration (FDA) Investigational Device Exemption (IDE) pivotal trial. Designed to evaluate the safety and effectiveness of the Affera Mapping and Ablation System for the treatment of persistent atrial fibrillation, the SPHERE PER-AF IDE trial is currently in its 12 month follow up phase.
The Affera Mapping and Ablation System will be commercially available beginning in the first half of 2023 in Europe and is investigational in the United States. Medtronic acquired Affera in August 2022. Worldwide, the PulseSelect System is investigational and not approved for sale or distribution.