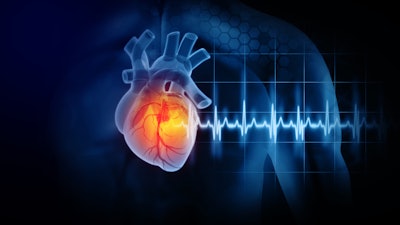 iStock
Magenta Medical, developer of the world's smallest heart pump, announced today the initiation of its FDA-approved Early Feasibility Study with the Elevate percutaneous Left Ventricular Assist Device (pLVAD) for the high-risk percutaneous coronary intervention (HR-PCI) indication. The study began with the treatment of two patients: one in Mount Sinai Health System and one in St. Francis Hospital and Heart Center, both in New York.
Patients with coronary artery disease are often referred to a catheterization procedure to open blockages in the arteries feeding the heart, with the goal of improving their quality-of-life and reducing the risk of heart attacks. Some of these patients present with more severe disease, making them prone to instability during coronary intervention, and are thus categorized as high-risk. In these patients, it is advantageous to provide mechanical circulatory support during the procedure to preserve systemic blood pressure and maintain perfusion of vital organs, including the heart itself. Since the duration of support for this indication is typically short (up to 6 hours), with patients ambulatory soon following the procedure, it is particularly important to limit the insertion profile of the device in order to minimize vascular access complications.
Having secured FDA Breakthrough Device Designation, Magenta Medical's proprietary technology miniaturizes a powerful blood pump to fit an 8 Fr delivery system - the smallest crimping profile of any such device. The percutaneous Elevate heart pump is inserted over a guidewire through commercially available 10 Fr introducer sheaths that require a small puncture in the groin. The flow of the pump is adjusted based on the clinical circumstances of the patient, up to 5 L/min of mean flow, making it the most powerful pump of its kind.
The Elevate Early Feasibility Study was approved by the FDA to evaluate the safety and feasibility of the Elevate system in providing temporary mechanical circulatory support during HR-PCI procedures, and constitutes the first step in a clinical program intended to secure approval for the device in the US for this indication.
The first patient was enrolled in the study by Dr. Samin Sharma, Director of Interventional Cardiology for the Mount Sinai Health System in New York City. The patient underwent a high-risk procedure for severe three-vessel disease and received hemodynamic support by the Elevate™ system throughout the procedure.
The second patient was enrolled in the study by Dr. Richard Shlofmitz, Chairman of Cardiology at St. Francis Hospital and Heart Center in New York. This patient also underwent a complex, meticulous PCI involving multiple vessels, resulting in a complete revascularization of the coronary tree. Robust hemodynamic support was provided throughout the procedure and weaning from the Elevate™ system was successfully performed in the catheterization laboratory.
Elevate is an investigational device, limited by Federal law to investigational use only. The technology received Breakthrough Device Designation from the FDA for two indications: high-risk percutaneous coronary intervention and cardiogenic shock.